860-44 BLOCK
860-442-5625
446 Colman Street
New London, CT 06320
Our Mission
To arm young voices with the power of pen and prose, reinforcing teamwork, accountability, and responsibility; igniting social change on the page and stage.
About The Block
The Writers Block InK was started in 2003 as a 501c3 non-profit organization to encourage youth to use writing and performance as tools to address personal and social challenges on the community stage. Students create original productions which explore critical themes and issues.
Our Productions

Breaking Ground
August 2012, Writer's Block Ink Community Arts Center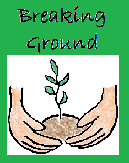 A very diverse group of characters - some are young, some are old, some are college educated, some are street smart - all have their own reasons for how they came to be at a homeless shelter and the significance it takes on for each of them is very different. They represent a variety of colors and cultures but come together to form a real community.
Issues addressed: homelessness, abuse, broken relationships, and economic struggle

Secret Wells Behind These Walls
August 2011, Writer's Block Ink Community Arts Center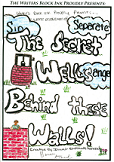 Inspired by the Judy Dworin Performance Project's "In This House," coming to The Garde Arts Center this fall. The play, "The Secret Wells Behind These Walls" incorporates the history of New London's Hempstead House into a modern day story of a family who now lives in the Hempstead neighborhood. During the course of the play, ancestral family secrets are revealed and tear the family apart; however, learning more about their past and accepting it makes the family bonds stronger.

Issues addressed: racial identity and race, forgiveness and to love, moving beyond the past, making a difference for the future.

Migration
August 2010, Writer's Block Ink Community Arts Center

Inspired by Michael Bradford's original play "Migration," is an exploration of race, religion, and social and environmental elements that inspire the human spirit to act, react, re-enact, and move - "MIGRATE."

Issues addressed: Transition, Seeking A Better Life, Uncertainty, Hope, Unemployment

Tribute to the Harlem Renaissance
February 2010, Writer's Block Ink Community Arts Center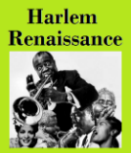 The Writers Block journeys to the Harlem of the 1920's and 1930's and gives voice to the bravery and commitment of the Harlem Hellfighters, and the joy and tragedy of Zora Neale Hurston's personal story while celebrating the music and poetry of Duke Ellington, Louis Armstrong and Langston Hughes. This performance also highlighted the unlimited potential within each individual and the importance of striving to achieve ones dreams.

Issues addressed: Recognition of historical figures, personal potential

Three Houses Down
August 2009, B.P. Learned Mission, New London, CT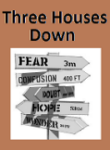 While the drama club students at a local school prepare for a performance of Hamlet, the central question "To Be Or Not To Be" plays out in the lives of the cast as they and their families learn that burying issues only makes them worse. As secrets are uncovered, their strength as individuals and their bonds to their families, friends and communities are tested.

Issues addressed: Secrets, Bullying, Sexual Orientation, Teenage Pregnancy, Alcohol Abuse

The Story of the Block
December 2008, Writer's Block Ink Community Arts Center

Students recount the history of the Writers Block Ink, reliving it's birth at the heart of New London, the inspiration and stories behind the founders, and the groups progression and growth. This high energy performance incorporated dance, song, poetry and rap to capture the spirit and energy of the organization and its students. 150 members of the local community witnessed this Writers Block Ink dedication and thanks to the New London community for its support during the groups first 5 years.

Issues addressed: Dreams, Community

Same Body Different Wounds
August 2008, Eugene O'Neil Theater, Waterford, CT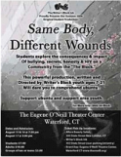 Students at a local school learn the importance of honesty, community and compassion when they face the death of a beloved school counselor at the hands of a classmate. While the consequences of secrets and peer pressure lead to devastating and life-changing effects, the power of love, forgiveness, and friendship within families and communities is learned and reaffirmed.

Issues addressed: Bullying, Community, HIV/AIDS

The Hour Glass
December 2007, Connecticut College, New London, CT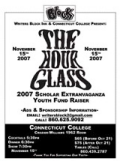 This song and dance revue begins when two children discover an old album in their grandmothers attic. As they view the pictures and ask questions, their grandmother takes them on a trip down memory lane that evokes the roaring 20's, World War I, Blues, Jazz World War II, the Civil Rights movement, the Vietnam war, 80's, and 90's and ends with the events of 9/11 and the Iraq War.

Issues addressed: Love, Life, Time, Family, War, Terrorism

The Road to Home
August 2007, New London High School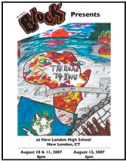 Two young Louisiana children who lost their mother and home to Hurricane Katrina are settling into life in New England when they here of the plight of the refugees in Darfur. Inspired by the charity that they've received and a desire to stop feeling like victims, they organize a variety show to raise funds to send to Darfur. The show explores the concept of home, the definition of the term and how it can evolve while increasing student awareness of national and international events that impact our lives and those of the global community.

Issues addressed: Home, Loss, Disaster, Refugees, War, Victimization, Hurricane Katrina, Darfur

Glitter and Gold
November 2006, Crocker House, New London, CT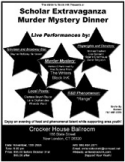 Written for our first extravaganza, this performance highlights the world of show business and the difficult challenges faced by those who are a part of the entertainment industry. Set at a 1980's award ceremony, it includes fictional characters such as Brittney Houston, Anna Mae and Mike Turner, Mike Jackson many of whom are struggling with life's challenges while striving for success in a difficult environment.

Issues addressed: Success, Jealousy, Drug Abuse, Materialism

The Elements of Hopes Inferno
August 2006, New London High School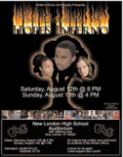 Hope High School was a mainstay of the community for generations but time has not been kind, performance on standardized tests are down, dropout rates are high and the school is badly in need of repair. The City Council must choose between investing in the youth by repairing the school or razing the school, sending the kids to other towns and constructing a mall. The community is divided on the issue personal biases and are all brought to the forefront of the debate. In the midst of the debate, the school burns down and the community must influence the Council to reach a decision for the greater good.

Issues addressed: Rape, Despair, Incarceration, Community Activism, Racism, Abuse, Classism

The Struggle
August 2005, New London High School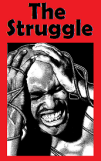 Students write about their personal experiences voicing everything from the hope-filled innocence of favorite things such as chocolate and bike riding to the feel of pavement against the cheek as young men are pulled over and questioned by police for no clear reason. The Struggle is a gripping and challenging montage of the real-life experiences, concerns and perspectives of today's youth as they struggle to make sense of the world, their place in it and find a path towards their future.

Issues addressed: Teenage Parenthood, Racial Profiling, Peer Pressure, Friendship

Chastity's Choice
August 2004, Eastern Connecticut State University, Willimantic, CT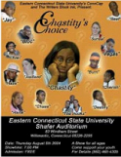 Chastity is a 15 year who struggles with her appearance and is always trying to please others and fit in. Chastity lives with her father Bloc because her mother is unfit. She wants to be accepted and feel loved more than anything, but confuses love and physical intimacy. Her relationship with her father is strained, and he too busy hustling and dating to truly realize her need for adult attention. Though her father has forbidden her from dating until she turns 16, Chastity has a boyfriend named Jay, who has big dreams for the future. Chastity must identify and address her issues and make a sound decision.

Issues addressed: Teen-age Pregnancy, Promiscuity, Peer Pressure and Gang Violence

Center Stage
June 2004, Mitchell College, New London, CT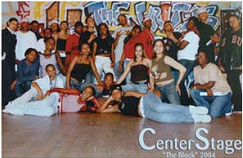 Center Stage explores the social dynamics of youth, friendships, peer pressure and suicide. Set at present day Block High (a small urban school), the production focuses on the interdependence of aspiring young hip-hop artists in a band called Versatyle. Dephinite, the leader of Versatyle, had an older brother named Street who was dealing drugs and gunned down the day he got signed to a major label. Dephinite is determined to make it big in honor of her brother's memory. Center stage is an exploration of choices and group dynamics, illustrating the power of the individual and the group and the importance of friendships and faith.

Issues addressed: Teenage Suicide and Drug Abuse, Peer Pressure and Family Dysfunction, Gang Violence

The Battle
July 2003, Connecticut College, New London, CT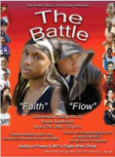 A lyrical journey through lives of urban youth constructed solely with spoken word poetry and rap to help students convey their story. The Battle is about their struggle. It's about Flow, a 16 year old black male trying to pave a way for himself and find his future - trying to find his flow. Will he join 70% of his peers and end up dead or in prison before graduation, or can he make it through the challenges of the street? It's about Faith, Rippa, Spirit, Holla, Lyric, DJ Booty, Ice, Mind Control (aka M.C.) - just a few of the cast, their names provide a peek into their roles and their souls.

Issues addressed: Drug Trafficking, Broken Homes, Teen Violence, Peer Pressure

Warriors Don't Cry
February 2003, Garde Arts Theater, New London, CT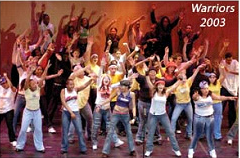 An adaptation of Melba Pattillo Beal's personal account of school integration in the late 1950's, Warriors Don't Cry is the story of the Little Rock 9 - some of the first black students to integrate Central High School in Little Rock, Arkansas. Student writers and performance poets from local schools reflected upon Melba's experiences in the late 50's and to create an original product that addresses and compares present-day issues of racism, poverty, and discrimination.

Issues addressed: Racism, Poverty, Segregation, Hate Crimes and War
---